Creation of online stores of any complexity
Professional development, technical support, promotion, and content of online stores for businesses and entrepreneurs. We work without template solutions. We prepare a unique online store for each client, completely ready for sales.
Key features
Powerful tools
Any possibilities for managing goods, orders, customer base and active marketing tools.
Working with goods
Inventory accounting, nested articles, auto-generation of articles, multi-prices for customer groups, product typing and filters.
Work with clients
Division into client groups, individual prices, bonuses, discounts, mailings, sms notifications, and other functions.
SEO tools
The platform is completely ready for search engine optimization. META tags with support for variables $product_title, $product_price, CNC, Canonical tag, 301 redirect, Sitemap, SSL.
Payment systems
Well-functioning work with all popular payment systems of the CIS, Europe and America.
Delivery services
The ability to automate with popular API delivery services. Automatic calculation of the cost and delivery time.
Synchronization with BAS, 1C
Data exchange with 1C: Trade Management, 1C: Small Business Management and other 1C configurations.
Google Merchant Center
Promote your products to millions of potential customers on one of the largest Google Shopping marketplaces.
Import / export CSV, XML
Work on import and export of tens or hundreds of thousands of products using CSV tables, XML and CommerceML.
iOS and Android
Manage orders and goods with a mobile app while on the go.
Marketing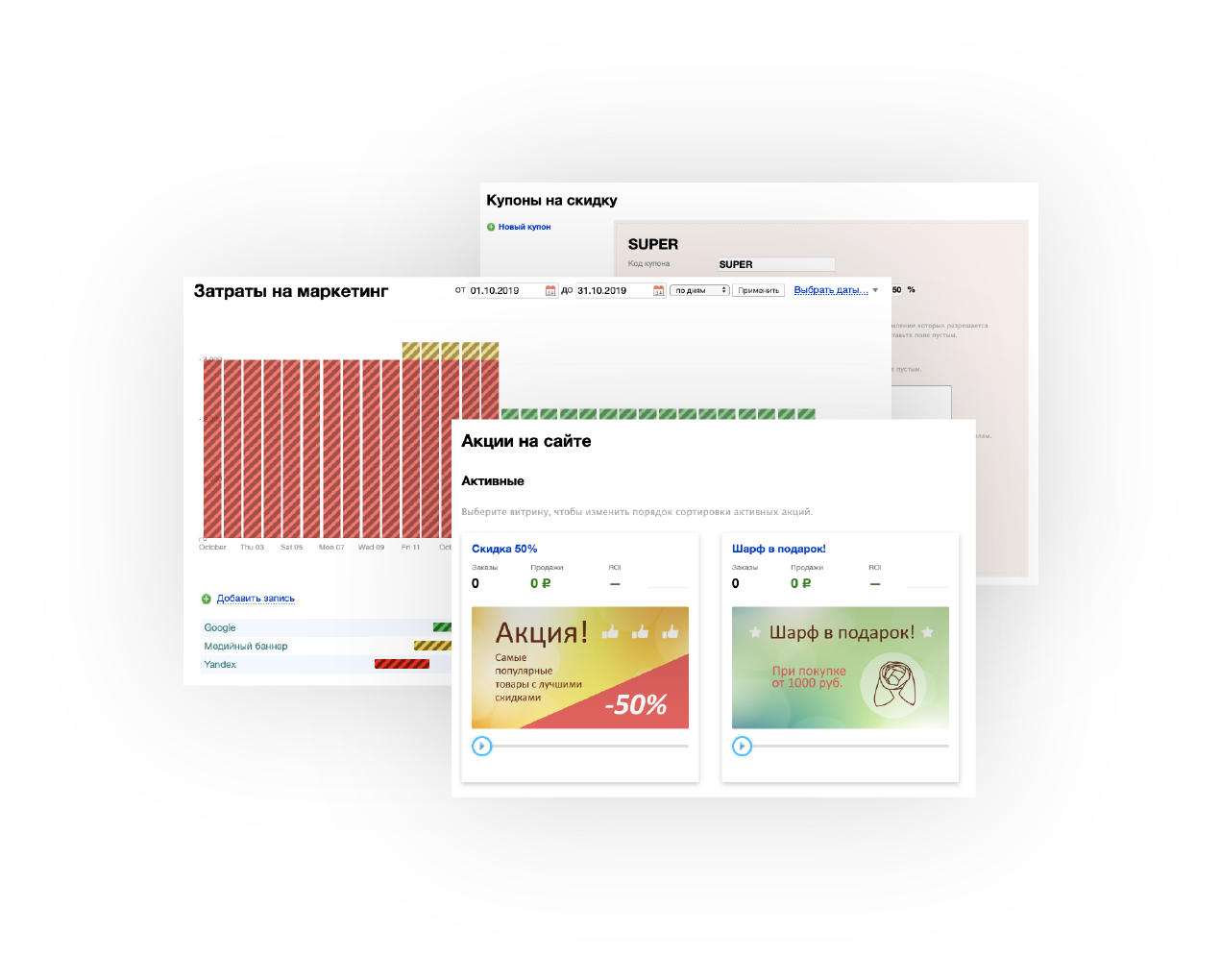 Promotions
Banners with fine-tuning design, UTM tags and coupons, specific products, with which you can collect sales statistics related to these changes.
Coupons
Creation of coupons to increase conversions of an online store with the ability to differentiate actions for all products or specific categories, lists, and types of products. Percentage discounts, flat price or free shipping.
Marketing costs
Keeping records of marketing costs directly in the store management center. Convenient interface for tracking the work of sales channels.
A / B tests
Testing tools automatically compare several store design options and help determine the most effective one based on order statistics and total profit.
CRM
Interaction with customers via e-mail, instant messengers, social networks, invoicing for goods and services, using IP telephony, setting up automatic reminders, analyzing the effectiveness of sales funnels.
Your employees can work with customers and orders of the online store, being only in CRM and without switching to Shop-Script. Personal and group access rights settings will help to conveniently organize the work of the sales department.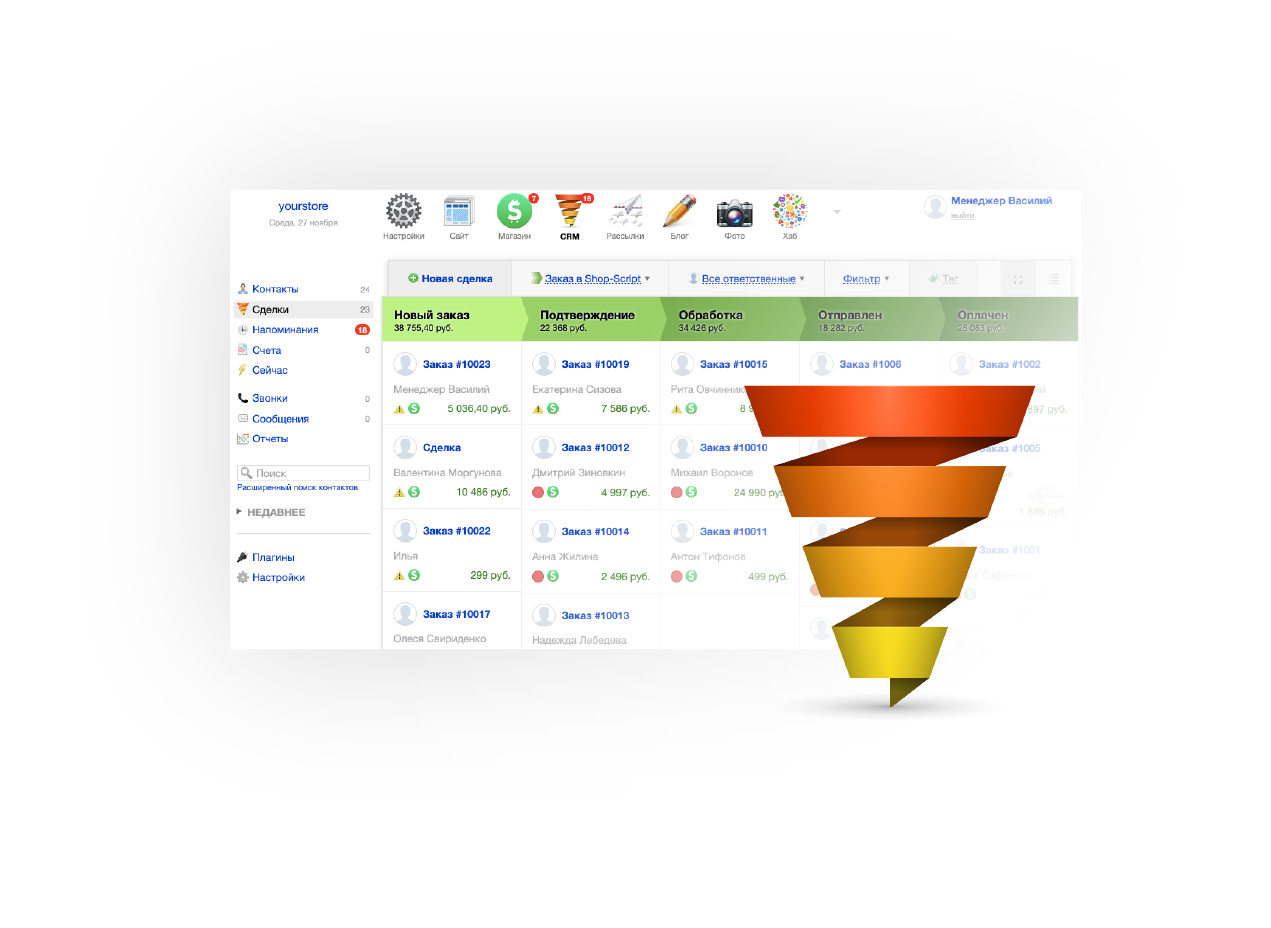 Inventory control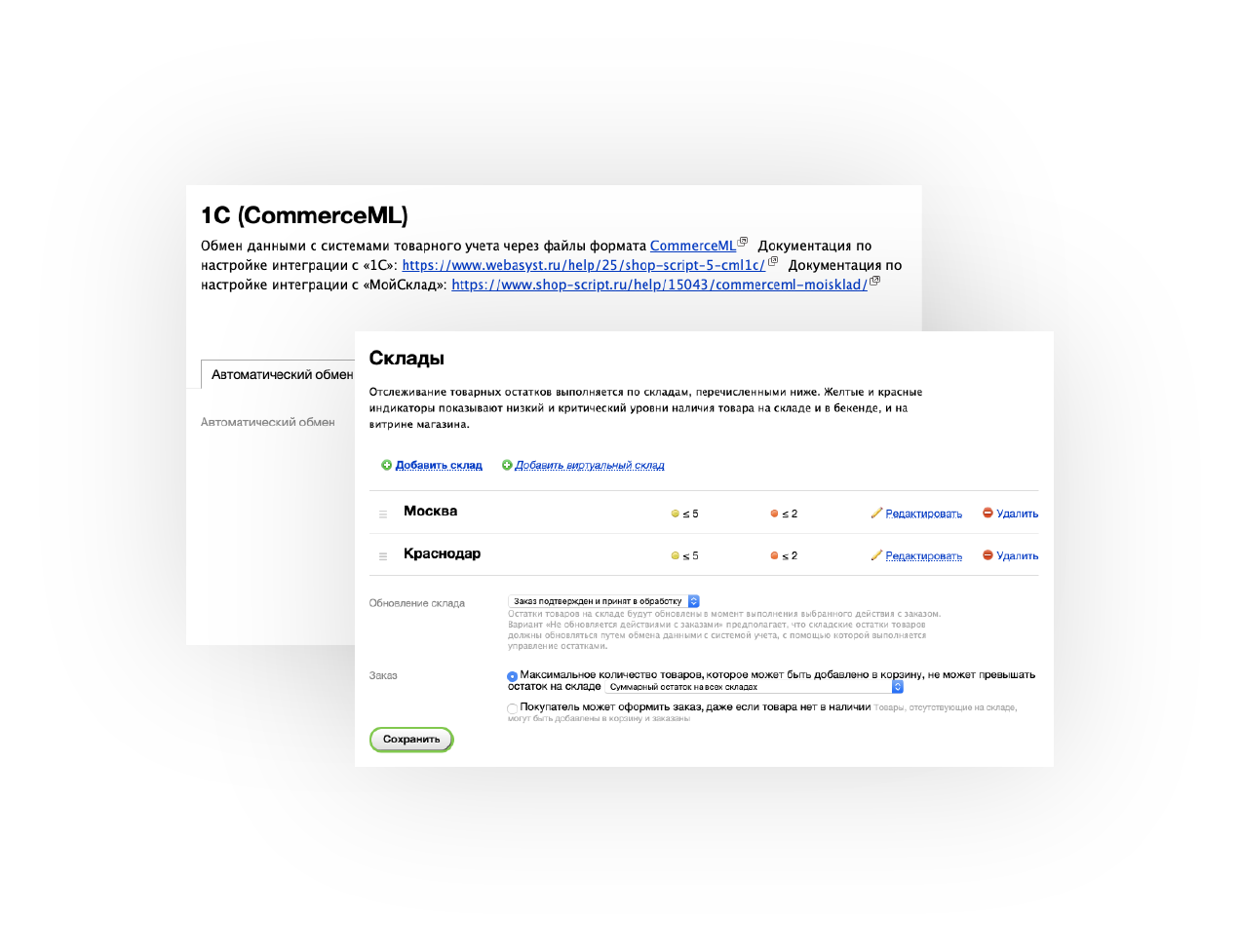 The warehouse accounting system allows you to account for the remains of goods in one or several warehouses, for example, in different cities. When shipping an order, it is possible to select a warehouse from which the ordered items will be written off.
When using the systems of commodity accounting "BAS", "1C", "MoySklad" or "Business.ru", integration is provided officially certified by the firm "1C".
Mailing lists
Launch your own bulk email campaigns across the entire customer base or create any recipient lists using an integrated CRM system.
Tools to increase sales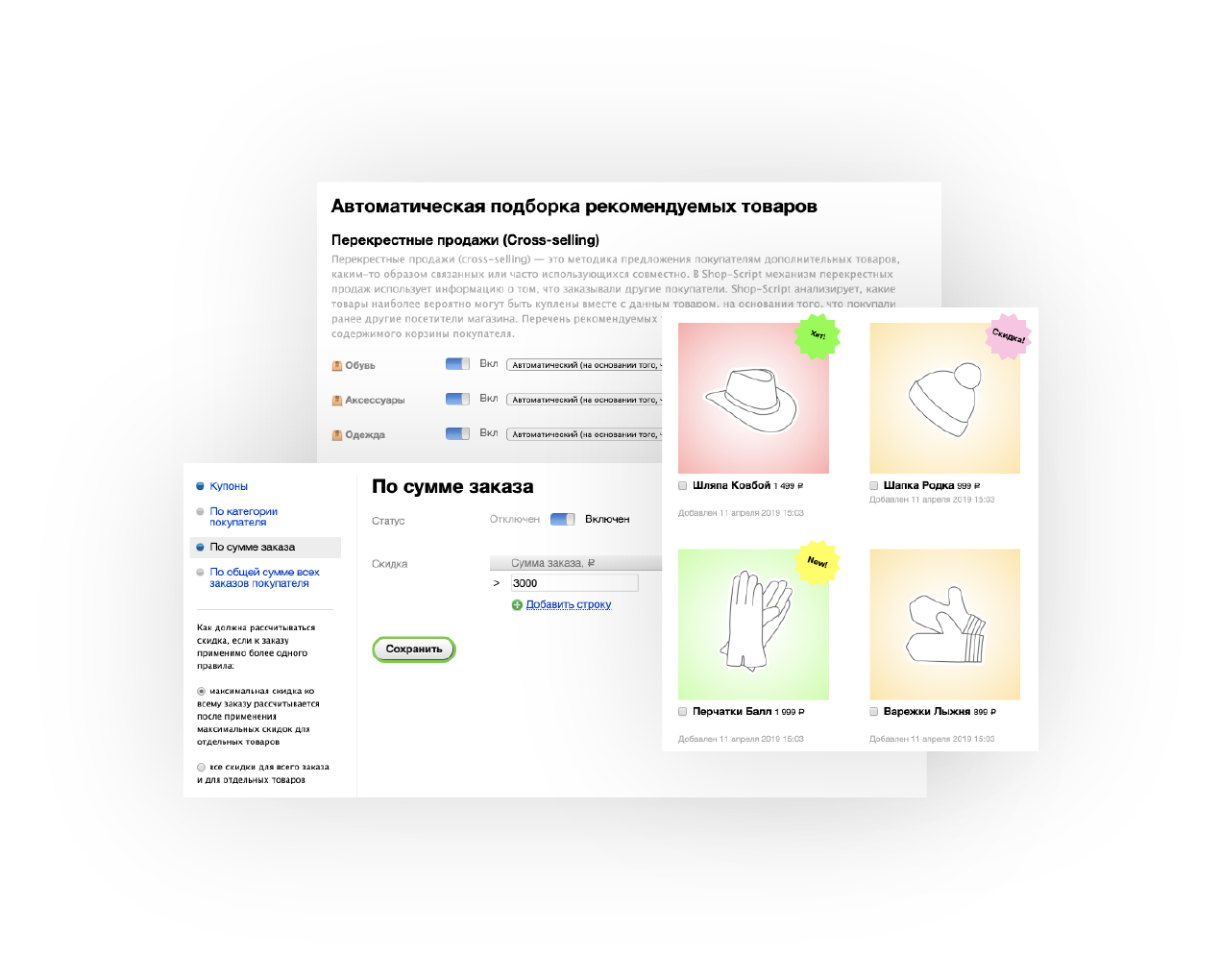 Product Recommendations
Automatic selection of similar products (upselling) and additional products (cross-selling) configurable by multiple filters.
Discounts
Various types of discounts for customers: by coupons, by order amount, by the total amount of customer orders, by customer category, using strikethrough prices, special promotion prices and bonus points.
Product stickers
Dynamic sticking of product photos with the ability to set your own text, for example: "New", "Sale", "Discount".
bonus program
Setting up the formula for calculating points for all types of goods or selected ones, limiting the maximum percentage of bonus expenses.
Trigger Messages
Configurable, automatically sent messages to customers on events or after a certain time after placing an order. For example: leave a review, inform about the accrual of bonus points, offer a personal coupon for a discount, or remind you to re-purchase.
Analytics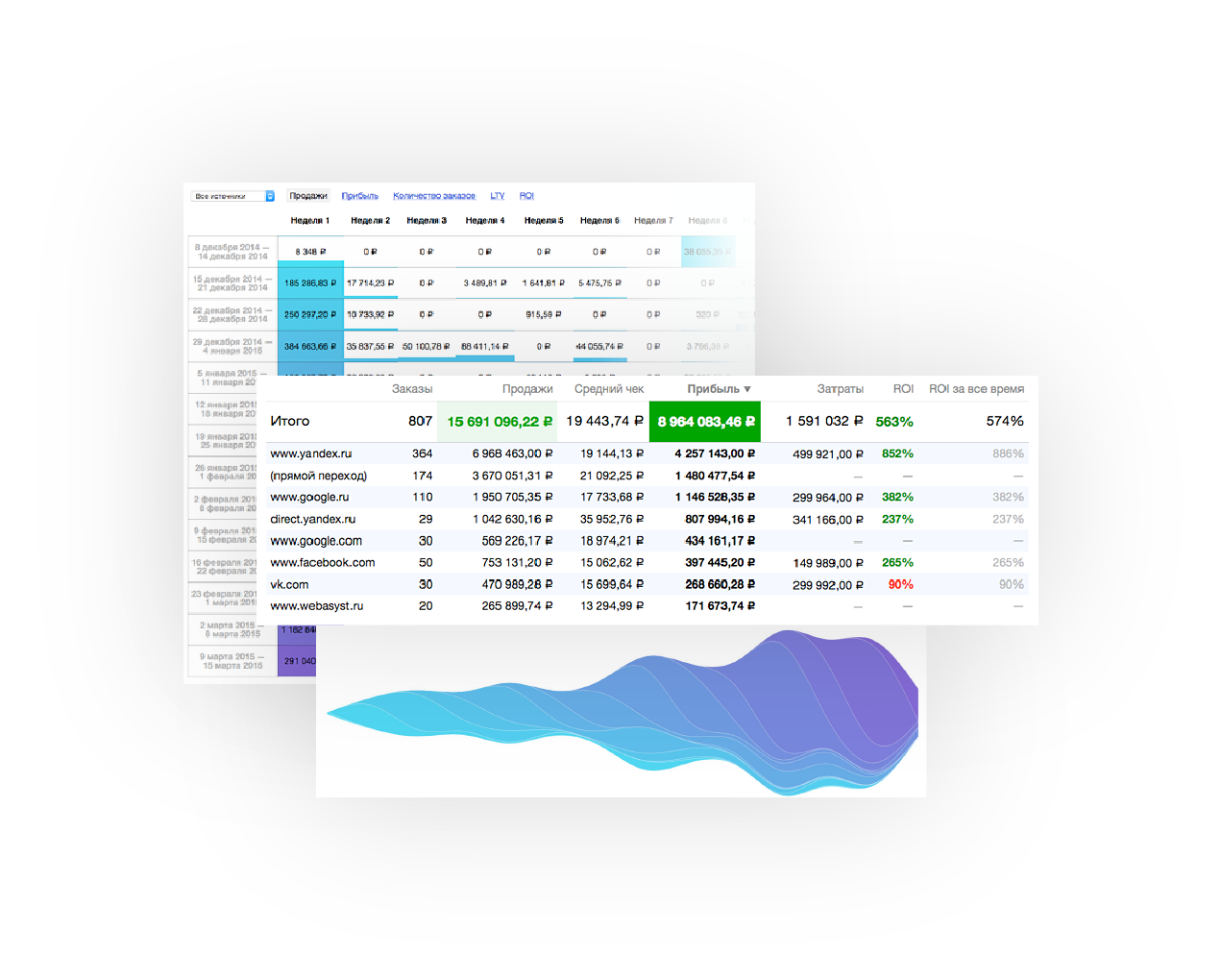 Powerful built-in reporting system. Assessment of key sales metrics separately for each traffic source, UTM tags, shipping methods, payment methods, countries and regions, and landing pages.
Cohort analysis
Analysis by groups of buyers, formed by time basis. Cohorts by check-in or first-order time in store, and the overall graph shows the contribution of each cohort to total sales. In the report by cohorts, you will see how and when customers placed their first and repeated orders and how much they brought you in the end in the first week, in the second, in the third, etc.
Discounts
Various types of discounts for customers: by coupons, by order amount, by the total amount of customer orders, by customer category, using strikethrough prices, special promotion prices and bonus points.
Return on Investment - ROI (Return On Investment)
Automatic calculation of return on investment when analyzing marketing and advertising costs separately for each channel, calculating ROI.
Customer value - LTV (Customer Lifetime Value)
Tracking the value of each customer for all time from their first purchase. This is an indicator of the net profit that one customer brings to you on average.
Customer Acquisition Cost (CAC)
Estimation of the average cost of attracting one customer, depending on the channel through which it was possible to bring him to order.
Profit
Calculation of net profit, which is calculated taking into account the total revenue and the purchase value of all goods sold.
Average check
Compare the average customer check for different advertising channels. Study which sales channels are more profitable for you and are worth continuing to invest in them, and which channels you need to work on developing.